2021 Alaska Economic Trends
Alaska Economic Trends is a monthly magazine that covers a broad range of economic issues.
Click here to sign up for a free electronic subscription.

Click here for a paid print subscription.
Alaska Economic Trends are searchable from 1978 to the present using the Trends search page. The search can include any combination of the title or subtitle, date or date range, author, or full text.
June 2021
The Ascent of Breweries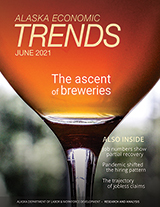 The pandemic temporarily pinched the taps, but breweries continue to grow in Alaska.
Also inside:
April job numbers show partial recovery
Pandemic altered typical hiring pattern
The trajectory of jobless claims

May 2021
Housing Market Remains Steady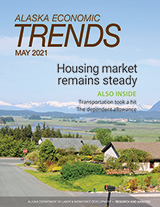 The housing market has been remarkably resilient during the pandemic, but this doesn't equal a housing boom.
Also inside:
Transportation took a hit in 2020
The dependent allowance for unemployment claimants

April 2021
Gender and the 2015-18 Recession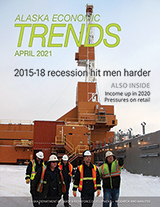 Men and women were affected differently by the recent state recession, largely because of the industries in which they work.
Also inside:
Personal income went up in 2020
Retail faces a trio of pressures

March 2021
Migration By Age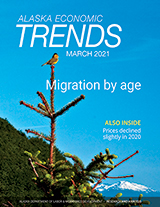 An in-depth look at migration-by-age patterns in Alaska since 1985
Also inside:
Prices declined slightly in 2020

February 2021
The Economy Before COVID-19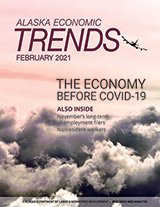 Where states stood economically as the pandemic hit and how Alaska compares
Also inside:
November's long-term unemployed
Nonresidents working in Alaska
January 2021
Jobs Forecast for 2021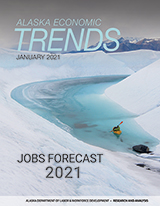 Annual employment forecast for Alaska, Anchorage, Fairbanks, and Southeast