Dr. Tamika L. Ledbetter, Commissioner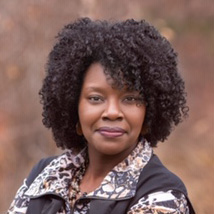 Dr. Tamika L. Ledbetter serves as the Commissioner of the Alaska Department of Labor and Workforce Development. Under her leadership, the department serves to provide safe and legal working conditions and to advance opportunities for employment.
Highlights during Commissioner Ledbetter's tenure include prioritized training resources to Alaska's at- risk youth population, consolidation of federal and state training grants under the administration of the Alaska Workforce Investment Board, and national recognition for Alaska's premiere vocational training institution the Alaska Vocational Training Center (AVTEC). Recently named one of the best returns on investment in the country for outstanding workforce development programs, AVTEC offers a wide range of high demand career opportunities in programs of under one year.
Prior to Dr. Ledbetter's appointment to the Office of Commissioner, she held several key positions with the department. She began her career with the State of Alaska in 2007 as a Career Development Specialist. After two years, she became Manager of the Mat-Su Job Center, a role she held for eight years. Most recently, she served as Regional Manager for the Anchorage/Mat-Su Economic Region. Her background as a community leader, dynamic public speaker, and human performance improvement consultant has complemented her experience as a workforce development professional for more than 15 years.
Dr. Ledbetter is a veteran of the United States Air Force Operation Iraqi Freedom. After she and her family transferred to Elmendorf Air Force Base in 2003, they decided to make Wasilla, Alaska home. She holds a Bachelor of Arts in History/Political Science, a Master of Arts in Education/Adult Education and Training, and a Doctor of Management in Organizational Leadership.
Dr. Ledbetter has distinguished herself as an astute and skillful leader and has always worked to facilitate an environment which encourages career advancement and excellence of her team members. These skills were recently recognized by her election to the position of Chair-Elect of the National Association of State Workforce Agencies (NASWA). Among her many achievements includes the distinguished honor of Alaska's Top 40 under 40 for her leadership at the Department of Labor and Workforce Development. She is an active community member, and was recently appointed by US Secretary of Labor Martin J. Walsh to serve on the national Workforce Information Advisory Council
Commissioner Ledbetter and her husband, Fred, who is also a military veteran, are most proud of their children: their teenaged daughter and two sons who are active duty in the United States Armed Forces.
---